Roll over image to zoom in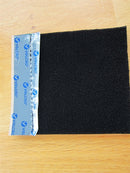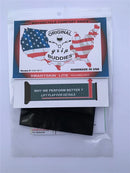 Most motorcycles stock hand grips are just lousy. Why? Because most grips are thin, rock hard, and transmit vibration to the rider. But the biggest issue can be due to the fact that most stock grips cause riders to "over grip". Over Grip is the sensation where a rider tends to grab the grip harder and harder in order to maintain feel and control...... and this causes fatigue of the hands and forearms.
Enter the Solution......... Neoprene Super Sharkskins!

These are the New SMARTSKIN Grips!

These US made neoprene comfort grips, referred to as Super Sharkskins, are a great option for riders wanting more comfort, less vibration, durability with a super easy install. With the Original Grip Buddies there is no need to remove your OEM grips....... you simply wrap these around them! They attach using the Velcro on the underside, for a easy install and can be easy removed if wanted. Or you can use adhesive to mount them permanently if you wish. And now you're ready to ride in comfort, in just a few minutes.

Available in LITE version at 3.2mm thick or 4.7mm for STANDARD version. Choose the option you prefer.
Dramatic improvement in the "Feel and Comfort" of your hands on your grips!
Grips with "All-Weather" qualities. These grips do not absorb water!
A heightened sense of "Control" over your motorcycle due to the satisfied feeling that your hands have finally been properly "filled". . . . . . just the right amount (enough, but not too much)!
A product you can easily and quickly "Install Yourself", over the top of your stock grips!
* Grips that are "Heated-Grip-Compatible". You really feel the heat with these babies!
*A durable, long-lasting solution that "Won't Migrate" like some other available grip options
* An almost "Baffled Feeling" that such a seemingly small/inexpensive addition, could make such a huge difference in your enjoyment of your motorcycle!
Available for most Makes and Models of Bikes!
Full Fitment list and Sizing below:

AA = Suzuki Bandit 1250, Burgman 400 & 500, Royal Enfield, Ural, BSA
AA = 4" Wide x 4" Circumference. Comes in Standard Size Only.
AB = Fits all BMW's &  All Ducati's


(Honda) - CBR250 +1000, CTX 700 (E+N), VFR 1200, NT 700V+X, CBR 600, NC 700X, etc 
(Suzuki) GSXR 750 & 1000, GSX1300R, V-Strom All, DR 650; 
(Kawasaki) Ninja 650, Versys, Concours C-14 and C-10, ZX14,Z-1000, ER6N 
(Yamaha) Stratoliner, V-Star 250, YZF600R, FZ-1,V-Max, FZ-6R 
(Aprilia) Shiver 750,Mana 850,Tuono; 
(Moto Guzzi) 1000SP, Breva 1100 
(Triumph) Tiger 1200 Explorer
[and most other sport bikes and ATVs]
AB = 4-1/4" Wide x 4-3/4" Circumference. Comes in Both Standard and LITE versions.
AC = Yamaha FJR-1300; (Kawasask)i KLR-650, (Honda) ST-1100 and 1300, CB 500 (X + F), CB 1100; (Buell) Blast and Ulysses
AC = 4-1/2" Wide x 4" Circumference. Comes in Both Standard and LITE versions.
BA =  (CanAm) Outlander (ATV); (Honda) XR-650R; (Yamaha) R-1, Harley Davidson Street 750/500 Series. Comes in Standard Size Only.
BB = Victory. Comes in Standard Size Only.
BC = Yamaha Royal Star, KTM 990. BC = 4-1/2" Wide x 4-1/4" Circumference. Standard Size Only
BD = Yamaha Super Tenere 1200
BD = 4-13/16" Wide x 4-7/8" Circumference. Standard Size Only.
BE = Honda Goldwing GL1800 and F6B
5-1/2" Wide x 4-1/4" Circumference.Standard Size Only.
CA = Most Triumphs, Most Harleys like ElectraGlide Classics, EG 
Ultras, Sporters, V-Rods, Night Rods. Standard Size Only
CB = V Rod Muscle, Heritage Softail Classic, Fat Bob, Fat Boy, Dyna Wide Glide, Dyna Super Glide Custom, Street Bob, Street Glide, Road King, V Rod, Switch Back, Tri Glide Ultra Classic, Road Glide Custom; KTM 790, 1090, 1190, 1290...(Moto Guzzi) Norge & Stelvio; ...(Yamaha) V-Star 950, FZ-8. Standard Size Only
CC = Most Cruisers (including): Honda) Shadow 750, VTX 1100, 1300, & 1800T, Fury 1300, 750 Ace Deluxe, VT 750 Phantom, Spirit 750, Aero VT 750, Sabre; (Suzuki) S-40, Boulevard C50T, Boulevard M-109 R, M-90; (Kawasaki) 1500 Classic, Nomad,Vulcan 900, Vulcan 1700, Vulcan 2000, Meanstreak VN 1600/1300, VN 900 LT, Voyager; (Yamaha) V-Star 650, V-Star 1100 and 1300, Roadstar 1700, Raider (all), Stryker 1300, Bolt; (Kymco) Venox 250, CAN Spyder RT, Harley SuperGlide.   Standard Size Only.
DB =  Triumph T-100, America, Speedmaster, Thunderbird, Rocket 3, Tiger 1050; (Victory) Cross Country, (Honda) Shadow 1100 VT; (Moto Guzzi) EV11. Standard Size Only.
Ok... so what if you don't see your bike or ATV listed here but you want to size it out??? Easy........
Take the letters of the Kit      ie. CC, AB, BE
The first letter is the circumference (all the way around) of the grip. The second letter is the length of the grip:
·       A = 4.00" (102mm)
·       B = 4.25" (108mm)
·       C = 4.50" (114mm)
·       D = 4.75" (121mm)
·       E = 5.50" (140mm)
For example:
BE = 4.25" circumference x 5.50" length
AC = 4.00" circumference x 4.50" length
Solved my Skinny Grip Problem
Why to import bikes insist on using grips so skinny that your hands cramp holding on to them for more than 5 minutes? Im not a fan of Grip Puppies as they become a sponge in the rain but Shark Skins don't soad up the rain, do the job, easy to install and cost very little.
A good quality & useful product
Purchased it after watching a few YT videos, which recommended this product over the others. And I am fully satisfied with my choice/purchase. They are easy to install, provide a good cushion and are totally "non-slip". I'm posting this review after a month of use ~ and I have no complaints, rather I'm quite happy. I fully recommend these Grip Buddies for our motorcycles. Mine's: Honda CBR300RA. These fit like a glove. I've clicked a few pictures ~ but alas, this review system doesn't permit posting them.
Great
When my new Grip Buddies arrived I was a bit dubious, as they seemed too thin to add enough size to my grips. I was wrong... they're ideal. I had been suffering from hand cramping after about an hour and a half into rides, to the point where my fingers would cross as if I was wishing for something. It was really interfering with my riding. I was clenching onto my stock, spindly BMW grips for all I was worth. But with the Grip Buddies installed, my grips are now an ideal size and there is more friction from the neoprene than with the stock grips alone. This has resulted in my being able to loosen my grip considerably and also rotate my hands back on the grips, which in turn has lessened the amount of forearm muscles needed to grip the bars. And with being able to rotate my hands a bit back on the bars, I am sitting up more vertically with less load on my shoulders and lower back. Altogether a more comfortable proposition. These are well worth buying.
FJR Grip Buddies
I bought the bike with the grip buddies already installed. They were getting worn thin in places after 5 years of my riding it. I felt I should replace them. Only thing not to like is the cost.
Grip Buddies
Easy to install,they are a little bigger than what I'm used to but really comfortable and the heated grips work fine with the extra cushion
Your payment information is processed securely. We do not store credit card details nor have access to your credit card information.