Roll over image to zoom in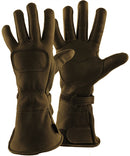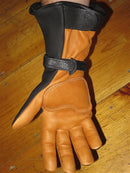 Handcrafted with pride to uncompromising standards.

So cool, yet so warm. The incomparable Lee Parks Design DeerSports PCi gloves provide iconic good looks, legendary durability, and world-class performance and comfort in a crazy-wide temperature range (35°–75°F). They were the first motorcycle gloves on the market to feature the amazing Outlast phase-change lining. Being thin on the palm side allows them to feel almost like uninsulated gloves, and for those with heated grips, they actually absorb the heat and Outlast's conductive properties warm both sides of your hands, without burning your palms like unlined gloves can.

To read WebBikeWorld's Review, click HERE

Proudly made in the USA.

NOTE: Prior to ordering, click on this Glove Size Chart. to print off a sizing chart for your hands. These gloves run bigger than most brands, so don't be alarmed if you're either a small or medium in Lee Parks Design gloves.


Care:

1. Put gloves on and get them wet with warm water
2. Add Woolite or mild detergent and scrub the gloves as if washing your hands
3. Rinse and air dry, do NOT put them into the dryer
4. Wash gloves once every 6 months.
The Inside Line Notes - The Deersports PCi are one of the first gloves on the market to use Outlast, originally developed for NASA, utilizing phase change materials (PCM) that absorb, store and release heat for optimal thermal comfort. Outlast® technology is not wicking technology, which manages moisture by reacting to your sweat and pulling it away from the skin. Outlast® technology will proactively manage heat while controlling the production of moisture before it begins. That's the Outlast® difference!
Fitment note on Lee Parks Design PCi gloves:
All regular LPD gloves usually size one size down for "most" people. These are a true Made in the USA product and therefore aren't sized like other gloves that are made in China, Thailand, Korea, etc. So with that in mind….. as an example….. I usually take an XL or maybe even a 2XL in over seas gloves. My LPD DeerSports and DeerTours fit me in a LARGE perfectly.
Now comes the difference….. The PCI versions of the DeerSports or DeerTours have the Outlast material embedded into the glove's hide and therefore has a slight  "plumpness" to the glove that gives it its wider range of temperature use. Because of this I usually tell folks to consider going one size back UP to accommodate this.
So where a LARGE in the regular DeerSports fits me perfectly I wear the XL in the DeerSports PCI glove. Just something to consider when printing out the sizing chart and what gloves you currently wear or have in the past.
Matt

Warranty Information
Rest assured, this product comes with 1 year warranty that covers defects in materials and workmanship to the original purchaser.


MCI's Glove guarantee:
Purchase any glove from us with confidence, knowing that, if the sizing is not completely right, we will pay for the return shipping AND ship the exchanged pair back to you….. for free! We take all the sizing risk out of the equation!!
And with our 30 day no hassle money back guarantee, feel confident that your next glove purchase is with MCI! We want your hands to be 100% happy!


Warmth and comfort
These are my go-to gloves for West Coast winter and shoulder-season riding. When it rains, I cover them with a Gortex shell. When used with heated grips, the heat conduction effect is amazing. This is my second pair, my first being 7 years old and still going strong.
Got one pair, want more, many more.
Leather quality - Sublime, flexibility, colors...
Finish - Outstanding. Seams? What seams
Comfort - I could (almost) sleep with them :)
It has become my new favorite pair of gloves. I just ordered the short summer version.
Not tested under heavy rain condition.
Great gloves!
Love these gloves... top quality.
Lee Parks DeerSports PCi
I wanted some new gloves for riding in cooler temperatures.
I have both DeerSports and DeerTour gloves. The PCi gloves are sized the same as the other Lee Parks gloves. They are very slightly bulkier than DeerSports but still allow for good dexterity.
I have a tough time buying gloves due to fat hands with short fingers. These gloves fit perfectly with none of the too long finger issues I usually find with other gloves.
The first time I used these gloves I did a 500km ride with them and had no problems or sore knuckles like I get with most gloves that have carbon knuckle protectors.
Gloves are soft enough that no break in was needed but I'm sure they will give a little in time and mold to my hand a little better.
Temps ranged from 10-22 degrees. I did need the heated grips turned on below about 14 degrees. My hands are exposed to the breeze with no fairing for protection.
I was still comfortable over 20 degrees.
I would buy these again.
Cheers
Nice gloves, albeit expensive
I bought these gloves for cold weather riding based on the reviews I read about their Outlast membrane. I wore them for the first time recently on a cold morning when the temperature dipped to 5 degrees Celsius in a deep valley, and they worked brilliantly in conjunction with the heated grips on my BMW F800R. I was pleasantly surprised that even my thumbs and the tips of my fingers stayed warm, a treat I never got to experience with other so-called cold-weather riding gloves. As a bonus, they are not all bulky and give a great feel of the throttle and other controls. The down side is that they are not waterproof and have no armour whatsoever. And they are quite expensive. But the comfort level and the quality of the leather and stitching are really top-notch. So this was for me money well spent. I should also mention that they were delivered super fast.
Your payment information is processed securely. We do not store credit card details nor have access to your credit card information.