Roll over image to zoom in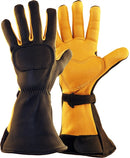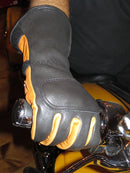 Soft as silk, tough as nails.
The incomparable Lee Parks Design DeerSports provide iconic good looks, legendary durability, and world-class performance and comfort. See for yourself how the same glove is just as at home leading the International Iron Butt Rally (Peter Hoogeveen) as it is winning the WERA National Endurance Championship (Lee Parks). It's no wonder so many pairs are still on the road with 5–10 years of adventures behind them.

DeerSports® gloves from Lee Parks Design are suitable for road or track use, and are nicely made of U.S. deerskin. Trimmed and ironed internal seams ensure unmatched fit and comfort, and the seamless palm gives good feel and eliminates pressure points. An extended gauntlet with dual hook & loop closures secures nicely over jacket sleeves. Additional layering of deerskin at strategic areas on the gloves provide increased abrasion protection.

Proudly made in the USA.

NOTE: Prior to ordering, click on this Glove Size Chart. to print off a sizing chart for your hands. These gloves run bigger than most brands, so don't be alarmed if you're either a small or medium in Lee Parks Design gloves.

Care:

1. Put gloves on and get them wet with warm water
2. Add Woolite or mild detergent and scrub the gloves as if washing your hands
3. Rinse and air dry, do NOT put them into the dryer
4. Wash gloves once every 6 months.
The Inside Line Notes - The Deersports are Lee Parks Designs most popular gloves. Silky soft but durable deerskin on the palm and tough Elkskin on the back make these gloves some of the toughest and most versatile gloves on the market. Want a glove that instantly feels right at home on your hand? These are them!
Matt's personal thoughts:
Iconic good looks! These are one of my all time favourite gloves to wear. I love these gloves. These are the type of gloves that make you forget you are wearing them…. And that's a good thing! Yes... they size a little bit smaller than others. I normally take an XL in other gloves but only a LARGE in the Lee Parks DeerSports
Warranty Information
Rest assured, this product comes with 1 year warranty that covers defects in materials and workmanship to the original purchaser. Its rare we ever have warranty issues but no worries.... Lee Parks takes cares of its customers!


MCI's Glove guarantee:
Purchase any glove from us with confidence, knowing that, if the sizing is not completely right, we will pay for the return shipping AND ship the exchanged pair back to you….. for free! We take all the sizing risk out of the equation!!
And with our 30 day no hassle money back guarantee, feel confident that your next glove purchase is with MCI! We want your hands to be 100% happy!


Lee Parks Design DeerSports
Great gloves soft and well designed
Lee Parks DeerSports
I'm replacing these gloves because I lost the previous pair that were about 10 years old and still in decent shape. I've tried various types of gloves over my 18 yrs of riding and Lee Parks are by far the most comfortable. Believe the sizing chart - they fit very snug at first and will stretch into the best gloves you have ever owned. They never bind in the palms and offer a great feel of the clutch and throttle. Never seem too hot either. Matt
Lee Parks Design DeerSports
Excellent gloves, my third pair,love the fit and protection
Highly Comfortable, Measure Well
Great quality, amazing feel and articulation. Very nice tall gauntlet design, Deerskin and elkskin said to be very abraison resistant, they feel less protective than my BMW gloves, but have more feel. More to come when I actually put miles on these! Measure well before ordering - although I used the included chart, I ordered too small. Luckily, MI offered me an exchange for a perfect fit 2nd time around. Remember to not remove the tags when trying them on in case you need to be returning!
Loving them
I haven't used them on the bike yet, but so far they're the best feeling glove I've had. They fit like they're made for my hand, and loving the feel of the leather.
Your payment information is processed securely. We do not store credit card details nor have access to your credit card information.