Roll over image to zoom in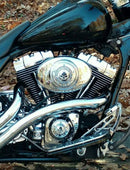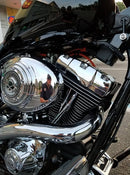 PREMIUM CNC BILLET TANK LIFT KIT
At Motorcycle Innovations we always look for products that are unique and innovative, and often stress Function over Form. With this in mind we carry many of the quality products from DK Custom that serve this purpose. We support two fundamental and functional aims when it comes to making your Harley Davidson last!
CLICK VIEW MORE!
FIRST - Cool Down your Ride!
These are the ways to do that!
Gas Tank Lift

Cooling Deflector Wings

Oil Filter Relocation 

Permanent Oil Filter

Oil Cooler
SECOND - Smart Performance Mods
Combine the following mods on your H-D for Improved Performance You Can Feel!
Outlaw HiFlow Air Cleaner

External Breather System

Tuner

Free Flowing Exhaust(Modified Stock OR Aftermarket)

Thunder Torque Inserts™

Gas Tank Lift

Cooling Deflector Wings

Oil Filter Relocation Kit

Permanent Performance Oil Filter

Oil Cooler
Now..... on to the Tank Lifts!!
PREMIUM CNC BILLET TANK LIFT KIT
FITS HARLEY-DAVIDSON TOURING MODELS 1999-UP
BAGGERS & TRIKES 
 MADE IN THE USA By DK Custom Products
FEATURES & SPECS:
Made from 6061 Billet Aluminum

All Stainless Steel Hardware

Includes Thread Protector Caps

Choice of Durable Black Powder Coat Finish OR Machine Cut Finish

E-Z BOLT-ON INSTALL - DOES NOT REQUIRE REMOVAL OF TANK

Instruction Sheet Included
This is the TOP OF THE LINE Tank Lift Kit. DK product line includes: 1", 1.5", 2",  2.5" and 3 inch rise kits...they are different (purpose-made & patented)...no extra metal or holes for multiple fitments, the lines match the lines of the bike. 
These are precision cut on DK's CNC machine from 6061 Billet Aluminum.  You have a choice of the Machine Cut Finish, which can be polished to a Mirror Finish, OR choose the Powder Coat Black Finish.

Look at all the pictures...the BEFORE & AFTER pictures show what a difference this easy-to-install kit makes!

Now you can see your Rocker Covers! Without this Kit all that chrome is Hidden!

This is the way the Motor Company is now mounting the M8 Softail Tanks, better line, better cooling, less buffeting. 

Worried about running hot? This Kit Provides Better Air-Flow - Engine Runs Cooler
 


This is an EASY install - 10 to 20 minutes!
Fitment:
1999-2007 - All sizes can fit (1, 1.5, 2, 2.5, & 3 inch)
2008-Up have a 6 gallon tank and only the 1", 1.5" and sometimes the 2" will fit these years.
Road King ~ Road Glide ~ Street Glide ~ Electra Glide ~ Ultra ~ Tri-Glide ~Freewheeler
The DELUXE Option is ESPECIALLY useful for 2008+ batwing bikes because moving the tank back & lifting the rear of it gives more inner fairing clearance.  Full details on this option are HERE.
IMPORTANT FITMENT NOTES:

What we label a 1" Tank Lift is actually 1 1/8" lift, the reason for this is to accommodate machining and hardware fitment.
Because of small variances in how Harley welds stand-offs & tank ears, also because of variances in where the batwing fairing is bolted on, the 1" Tank Lift can be very useful in making sure there is clearance at full turn lock.
Please make sure this mod does not interfere with any components on your bike - like  handlebars, turn signals, custom trees, etc.  You don't want to end up with a dented tank!  Check for clearance before ordering. Checking for clearance not only allows you to insure fitment, it also allows you to see which size will look best with your bike.

We are NOT responsible for any damage done to your bike because of the kit.
It is easy to check for clearance:
1. With bike on kickstand, take the bolt out of the front of your tank.
2. Loosen (do not remove) the bolt(s) at the rear of your tank.
3. Turn your handlebars all the way to the left and raise the tank up your desired lift height to check for clearance issues.
4. Turn your handlebars all the way to the right and raise the tank up your desired lift height to check for clearance issues.
Be careful when lifting your tank, you do not want to hit against something (forks, handlebars, trees, blinkers, etc.) when checking for clearance. 
 "The best and cleanest (Tank Lift Kit) we've seen are the ones DK Custom manufactures."  Green Mount Road Harley-Davidson
U.S. Patent D650,316 S
Click on the link below for an article on everything you need to know about Lifting your Tank.
-Will if fit?
-Will I lose fuel capacity?
-What is the purpose of a Tank Lift?
-Does it reduce Wind Buffeting?
excellent vendor
ordering was easy and delivered promptly
thanks
1.5 " tank lift on FLHP
With the DK Customs 1.5" tank lift in place it gives the tank a tear drop look as well the slope matches the slope of the hard bag lids giving the Road King a squat down Street Glide look. The added air flow over the rocker boxes make a noticeable difference in engine heat, less heat felt on one's legs.
Not only does the bike look much nicer when you can see the engine, a person can now clean the rocker boxes , even with big hands. All that is quite an upgrade for the few dollars spent, the real bonus for M8 owners is you know longer have to remove the fuel tank to change spark plugs, easy access to 3 and the right rear requires un-bolting the rear of the tank and blocking it with a 3" board and you have ample room to access the remaining plug. My first attempt at the plug exchange took a mere 20 minutes. Install of the lift kit is 15 -20 minutes. Should be up near the top of the ten must have upgrades on your bagger.
Your payment information is processed securely. We do not store credit card details nor have access to your credit card information.