Roll over image to zoom in
Thunder Torque Inserts 258 for Increased HP & Torque
At Motorcycle Innovations we always look for products that are unique and innovative, and often stress Function over Form. With this in mind we carry many of the quality products from DK Custom that serve this purpose. We support two fundamental and functional aims when it comes to making your Harley Davidson last!
CLICK VIEW MORE!
FIRST - Cool Down your Ride!
These are the ways to do that!
Gas Tank Lift

Cooling Deflector Wings

Oil Filter Relocation 

Permanent Oil Filter

Oil Cooler
SECOND - Smart Performance Mods
Combine the following mods on your H-D for Improved Performance You Can Feel!
Outlaw HiFlow Air Cleaner

External Breather System

Tuner

Free Flowing Exhaust(Modified Stock OR Aftermarket)

Thunder Torque Inserts™

Gas Tank Lift

Cooling Deflector Wings

Oil Filter Relocation Kit

Permanent Performance Oil Filter

Oil Cooler
Now..... on to the Torque Inserts!!
THUNDER TORQUE INSERTS™

Increases Low & Mid Range Torque
Adjustable Sound Volume & Tone

For Your Exhaust
 MADE in The USA!
by
DK Custom Products

 FEATURES & SPECS:
High-Temp Powder Coat Finish
Stainless Steel Studs (5/16" diameter)

Includes All Hardware

FITS 3" diameter & larger Slip-ons (other sizes available upon request)
Increases Low & Mid Range Torque
Increased Exhaust Gas Velocity

Increased Inertial Scavenging

Adjustable Sound Volume & Tone
Option for only 1 TTI for 2-1 exhaust systems
E-Z Installation  Bolts into the end of the slip-on muffler (using the baffle bolt hole)

Patented Technology
Made in The USA!
Watch these videos on how to get a better sound AND increase torque!
Take a listen to the following sound clips of 5 Different Bikes that all have an increased amount of Power from Thunder Torque Inserts™ Being Installed.
Check out this sound clip of M8 Stock Exhaust modified with TTI™.
Do you want Louder Exhaust? 
Quieter Exhaust? 
A Deeper Tone? 
A More Aggressive Bark? 
Do you want More Torque?
Another Video showing how good the stock exhaust can sound, and how much power they can have
with the baffles removed and replaced by Thunder Torque Inserts™.

Without getting too technical, we've spent thousands of hours testing shape, size, thickness, & surface coatings to find the optimum combination that increases power across a wide RPM band, AND gives maximum flexibility to deliver different sounds.
The Increase in Torque is accomplished by reducing engine pumping losses, increasing exhaust gas velocity and increasing inertial scavenging.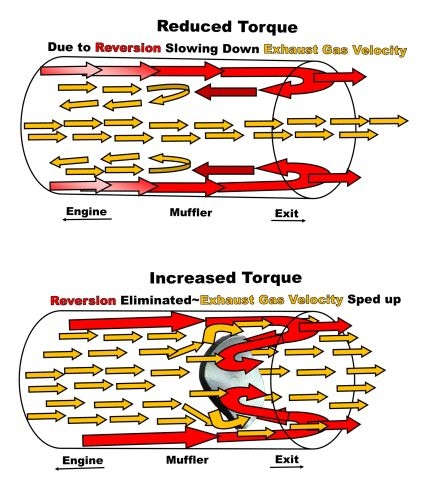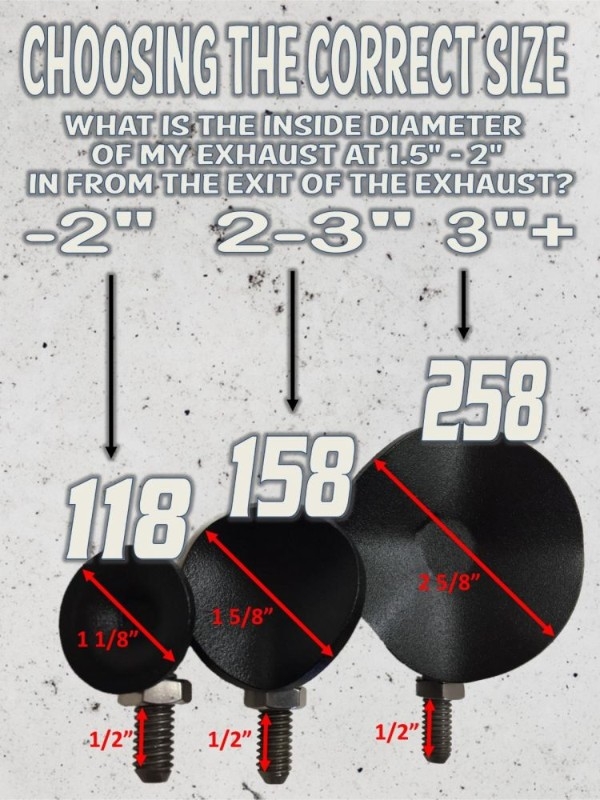 Thunder Torque Inserts™ are designed to perform well when used on slip-ons with and without baffles, drag pipes, shortys and 2-1 Systems.

The Patented design will produce a bit deeper sound/rumble all the way through the RPM and Throttle range. 
If you feel that your current exhaust is too loud, the Thunder Torque Inserts™ will noticeably reduce the decible levels.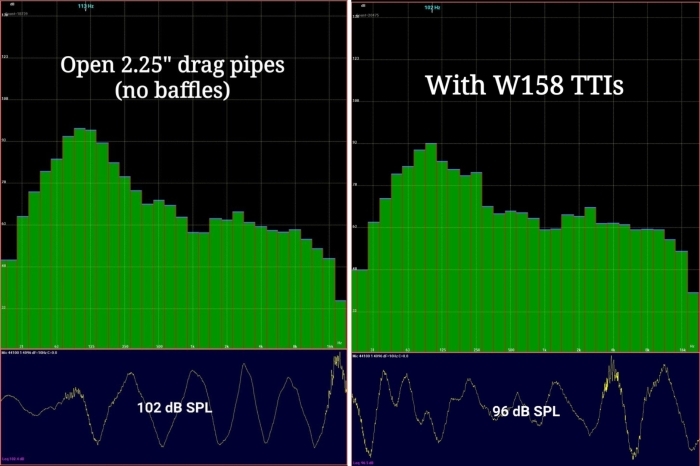 The comparison may seem subtle but decible measurements are not linear.
For Example, 90 decibels is four times as loud as 70 decibels and 110 decibels is about 16 times as loud.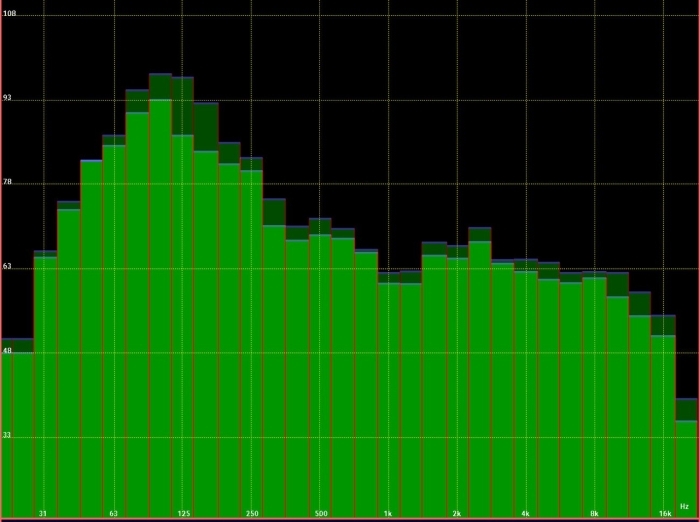 These particular results belong to a customer that had this to say...
"My impression of the sound is that it lost some higher pitched bark at roll-on and there was a reduction in low pitch reversion "echo" (kind of a flabby chuffing sound). To my ear, with these pipes, the tone isn't significantly lower but it is a bit cleaner or more refined sounding"
(Twin Cam at Full operating temp, mixture corrected, and idling at 1000 RPM.)
FITMENT NOTES:
When ordering you have an option of getting just ONE TTI if you have a 2-1 exhaust system that has only One slip-on, or to choose TWO TTI's for exhausts that have Two Slip-ons.
  
A small change can make a BIG Difference!!!
THE MOST TORQUE & HORSEPOWER GAIN PER DOLLAR SPENT!!!
"Amazing how much more power these gave my 103 down low.  The sound is raw power too." -Phil
"Just wanted to take a minute and let you guys know how pleased I am with the W258 TTIs.
 I'll be honest, when I first read about these things I figured it was somewhat gimicky so I didn't expect much. But, after removing the baffles from my Wild Pig slip ons and installing the W258's I was blown away by both sound and performance!
 It has the potato potato sound at idle (noticeably louder than before) and also sounds great at cruising RPMs. It actually reminds me of the way my old shovel head sounded.
 What really surprised me though was the very nice torque gain that you can really feel. After installing true duels and the wild pigs, I noticed a loss in torque. The TTIs brought all of that back, and maybe then some!
 Best money I've spent on my exhaust system for sure. Thanks!" -Dewayn
Your payment information is processed securely. We do not store credit card details nor have access to your credit card information.