Roll over image to zoom in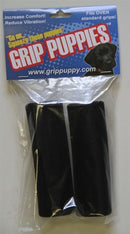 A soft, squeezable grip that simply slips over your standard rubber grip (no need to remove standard grip) and leaves you with a soft, squeezable, tactile grip that will give greater comfort to any bike as well as reducing vibration through the grip. A significant benefit is greater throttle control by nature of a larger grip diameter (especially on fly by wire throttles!)
Rock solid when fitted, a simple and very effective solution:-)


Grip covers slip over your existing grips. Made of a special high tech material that is U.V. , ozone and oxidation resistant. Foam will not weaken or crack as a result of years of outdoor exposure. Wall thickness is approximately .15 inches (0.38cm). Be wary of cheap alternatives that won't last!


Grip Puppies will fit OVER all

standard

grip sizes.

The standard Grip Puppy will fit standard bars sizes and grips. They are 5" (12.7cm) long and will fit grips that are 1.25 (3.17cm) to 1.45 (3.68cm) inches in diameter. (remember these fit OVER your standard grips, you don't need to remove them). Simply fit's over standard grips, works with heated grips.

(Not for large 1″ cruiser type grips, see Grip Puppy Big Paw for 1 inch bars).




Grip Puppies can be trimmed to length with a craft knife or similar if needed (using appropriate care!)

These are great for adding a little extra thickness and comfort to your grips.

Works great with heated grips.

Reduce vibration.

1000's sold

15 × 18 × 2 cm Weight is 0.2g

Fitting…
INSTALLATION INSTRUCTIONS: Couldn't be simpler, just apply a little very diluted liquid dish soap water to the inside of the Grip Puppies™ and slide them over your existing grips. Allow to dry then enjoy the ride! It really is that simple! **Dawn Liquid Dish soap is excellent**) Very dilute don't forget 🙂
WARRANTEE DETAILS. Grip Puppy's stands by their Grip Puppy products, offering a 5 year warrantee** against manufacturing defects from the date of purchase. Warrantee is applicable to first purchaser on initial application only. Warrantee does not cover removal and re-application.
You won't believe the difference with Grip Puppies fitted to your bike!
INSTALLATION INSTRUCTIONS:

Couldn't be simpler, just apply a little soapy water to the inside of the Grip Puppies™ and slide them over your existing grips. Allow to dry then enjoy the ride! It really is that simple!

Included in the kit:

Both left and right side grips.
Great for vibes and larger paws
I love these Puppies and have them on both my bikes. The increased diameter of the bar is a more natural fit for my hand, they soak up some vibes and don't interfere with heat dispersion if your bike has heated grips. But if you use heated grip wraps (as I do in the Fall on one bike without heated bars) it's a tighter fit for these wraps and although the Puppies increase the diameter again, they're still fine.
Easy on. They're a simple, inexpensive positive difference to riding comfort.
Grip Puppies vs Grip buddies
After using Grip Buddies for a little over 6 years, I have replaced them with Grip Puppies because they had reached they end of their service life (69,000Km). Grip Puppies seems to provide a little more comfort without a seam and are easy to install.
FJR1300 Grip Puppies install.
I installed the grip puppies on a 2019 Yamaha FJR1300. I am very satisfied now that they are on. I watched several Youtube videos showing dish soap and compressed air to aid with installation. I ended up using both methods and have a small tear on the one installed on the Throttle. They are very comfortable when riding and I would recommend them.
Gripping
Very happy. Easier to grip, less tiring, non-slip!
Grip Puppies
Look good easy to cut to length and install. Soaped the inside and hand grips.
Your payment information is processed securely. We do not store credit card details nor have access to your credit card information.